Posted by Hobbs; Original credit Beckett on Dec 22nd 2014
Team Box Breaks are up! Grab some of the new 2014 Topps Strata Football @PremierBoxBreak
Pick up Teams Here
FIRST LOOK: 2014 TOPPS STRATA FOOTBALL CARDS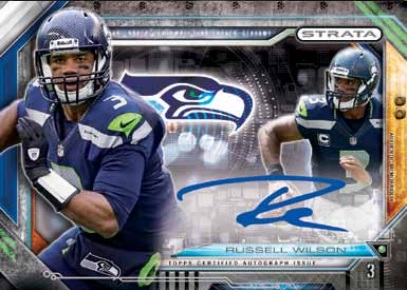 Credit to Susan Lulgjuraj | Beckett Football Editor
Strata Football is all about the layers and context. The hits are made with bringing multiple elements to one card, and that won't change for 2014 Topps Strata Football.
Each box will have three hits: two autographs, including, a Clear Cut Autograph Relic card, and a relic card. There will also be five die-cuts in every box.
Each pack will hold six cards with 18 packs in every box.
Case hits include one Strata Signature Relic card, one Clear Cut Autograph Patch card and three Strata Patch cards.